It is always important to support young talent and so I am very excited to introduce Florence Bradbury.  I  have been training Florence for three years and have been so impressed with her attitude, dedication, enthusiasm and talent that I have asked Florence to be a 'Brand Ambassador' for Melanie Phillips Dressage.
Florence, who is 12, is a delightful young lady who is rarely seen without a smile and always gives her best. Florence has two lovely ponies to ride Blaze ( Ruddleside India) and Chester ( Chester XXI).  She is very dedicated to her ponies and with the help of her very experienced mum Emma,  she looks after the two of them with bucketfuls of love and care.
Blaze, with whom Florence has been enormously successful at intro level,  is owned by the incredibly supportive Barbara and Lisa Milman. He is a very handsome and kind pony, loved by all.   Chester was bought by the Bradburys last year.  Although not always easy, he has proved to be a great stepping stone for Florence to move on from intro and they are currently working towards elementary.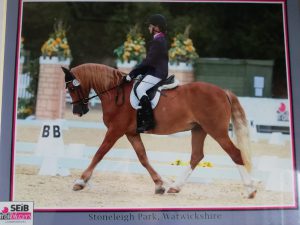 In future posts I will tell you more of Florence's adventures and triumphs past and present. But for today let me just tell you that at her first BD competition Florence and Chester won the Prelim 14 at Burrows Court Farm with just under 70 per cent! Congratulations Florence!!