I am running regular clinics that aim specifically to improve horse and rider by improving the riders posture and alignment in the saddle. I am employing the use of these amazing balls to help!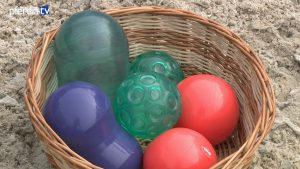 Most of us feel that we are not effective as we would like to be or we feel we are restricting the horse and criticise our own positional issues –   beating ourselves up for using too much hand and not enough leg for example !!
Often we are told that we are doing something we are not even aware of, or find we are unable to change something even if we are told a million times…
It can be so frustrating! Its so difficult to know how to correct these issues – even when we know they are there.
This is where the Franklin method can really help. Not only do these balls help to identify issues… they help you to correct them!  They allow you to change your proprioception and allow you to feel when its wrong …. and when you have got it right!
The sessions are one to one and last for approx 45 mins to an hour. We discuss the issues that you are having with training or performance. Then we use the different balls to help you find solutions.
The results are almost instant and are maintained even without the balls – but you will need to practise!
They are a really positive and practical approach to improving riders position and also your understanding of the dynamics of effective communication between horse and rider.